Assorted Web Clocking
Posted Mon, 12/12/11
Last month I mentioned receiving an avalanche of web work, which has forced me to modify my daily writing schedule.
Out of three major web projects, I managed to finish one of them after several revisions and approval stages. The site will "go live" by the end of the week, but in the interim I'm working feverishly between the two remaining projects to finish by the end of the year.
The sample below is a thumbnail of the new design for IENA's web site, which will not be visible until after Friday: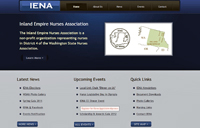 For the remaining projects on my roster, I'm developing a new web site and online newsletter for another non-profit organization. As part of the service, I'm also compiling several flash photo galleries devoted to their archived history (ranging from 1921 to the present). I spent the morning cataloging the old photos and documents, tallying more than 100 usable images. It's turning out to be quite a detailed project on top of the web site design and newsletter, but certainly far from boring.
I try to reserve nighttime for writing. I scribble on my quadrille pad with a black pen by longhand, of course, because I've typically had my fill of the computer screen by day's end. Since I'm up and about by five a.m., I take a few hours to type in my notes before getting back to the web clock.
It's likely to be the same work-cycle for the next several weeks.
Sigh.
Tags: Photos & Other Images; Web Design/Computer Misc
*RELATED POSTS: Life After Web Work (12/24/11); Web Clocking (11/14/11); Red Web (08/24/08).