Red Web
Posted Sun, 08/24/08
I always give myself leeway when I'm designing a new web site, usually a few weeks of work time. From past experience I should know I push myself until the proposed site is finished in record time, so this latest go-round was no different.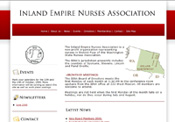 Aside from the "Contact" and "Registration" pages of the new Inland Empire Nurses Association (IENA) web site, the new design is complete. As the new site is not live yet, the old pages are still in evidence at the web address. The new design should be up and running the first week of September, after everyone involved approves.
Sometimes I design my own template (such as my web log), and other times I like to start with a pre-made template and then make my own adjustments as needed. For this go-around I used a red-themed "blueprint" from Round the Bend Wizards. Not only do they have great designs, they also have a help section and a useful collection of resources.
Most of my time was spent creating new graphics, as well as transferring text from the old site to the new with updates when needed. Quite a chore, but the worst of it is now over.
POSTSCRIPT: IENA's web site underwent another makeover in 2011 (Assorted Web Clocking).
Tags: Web Design/Computer Misc