Stormy Telly
Posted Sat, 06/02/12
I finally figured out why I like the Deadliest Catch. It's not because of the variety of "beefcakes" on display (what can one realistically expect to see when men on the crews appear in raingear most of the time?), nor is it the action or danger involved with crab-fishing on the Bering Sea.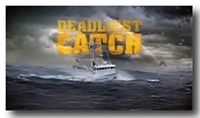 My fascination with the program relates to my love of stormy art. Almost every scene in the Deadliest Catch includes the rolling sea as a backdrop, usually in the midst of a storm or with one brewing on the horizon. I love the dark ambience, just as I'm drawn to storm-tossed artwork.
The only time I really watch television is late at night after I've gone to bed. Once in awhile I'll flip to HGTV to see people touring houses for sale, but immediately switch out if the locale is tropical or perpetually sunny. The same applies to western-themed movies or TV shows: dry, dusty or sun-soaked settings are an immediate turn-off for me.
I'm not a fan of reality shows as a general rule, especially those which focus on Hollywood or celebrities et al, but every Tuesday night finds me tuning into the Deadliest Catch.
I just can't help myself.
*Related posts: Stormy Art (01/14/11) and Stormy Telly (06/02/12).
Tags: Photos & Other Images