Stormy Art
Posted Fri, 01/14/11
I'm a big fan of stormy art, particularly if portraits include seascapes and lighthouses. I like the work of Jeffrey Engle (Gray Day), George Grie (Ghost Ship Series, Last Wave and Stormbringer), George Servais (Lonely Light), Carol Thompson (Approaching Storm, November Sea and Westport Water), and Lisa Weber (Stormy Ocean). One of my favorite seascapes was painted by Howard Russell Butler (1856-1934), who rendered a depiction of Bald Head Cliff in Ogunquit, Maine (see below).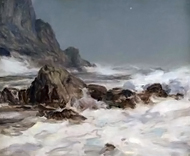 I've liked stormy art for decades; as far back as I can remember. If I'm shown a sunny beach portrait as compared to an angry storm amidst black cliffs, I'll take the cliffs anytime. There's something about dark skies and angry waters that moves me, more so than a bland sun-soaked scene that holds no interest for me whatsoever.
The same applies to real life. When the day begins with a storm, and the skies are cloudy and gray, my mood lightens considerably. I feel buoyant, confidant and inspired. If for some unlikely reason I ever found myself in a perpetually sunny tropic paradise, I'd be miserable. For example, given a choice between Hawaii or the Scottish Highlands, I'd be Scotland-bound in a flash.
When I began dating Wilbert nearly a decade ago, we attended an art gallery showing with a wide variety of paintings. I was drawn to a large portrait of an angry sea lapping against a black cliff. I don't recall the artist's name, but I've been looking for the painting ever since without success. At the time, Wilbert was trying to find something to get me for Christmas. I showed him the cliff portrait, but he didn't like it. "Too dark," he said. "Too depressing." I pointed out he was looking for a present for me, so didn't he want to get something I'd enjoy?
Apparently not. When Christmas came around, he gave me a painting of a lighthouse on a sunny, pristine beach. Needless to say, I wasn't thrilled with the gift but showed proper appreciation. Later, after we got married and moved to Washington, he positioned the portrait over my desk in our new home. "To give you inspiration while you write," he said. It never did. When we separated amicably some years later, I told him he could keep the painting for his own collection.
And I'm still on the lookout for my original storm-tossed cliff portrait.
*Related posts: Stormy Art (01/14/11) and Stormy Telly (06/02/12).
Tags: Photos & Other Images