Snowy Days
Posted Tue, 12/01/07
Snow, snow and more snow this first day of December. The local weatherman didn't predict the storm, but here we are and it hasn't stopped since dawn.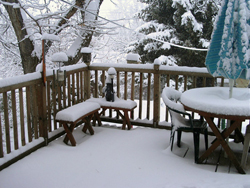 The last few days have been slow for Foofer. While he has maintained a healthy appetite (he especially likes the gourmet Cesar dinners), he gets weak after short sojourns and has trouble maneuvering stairs now. But I am right there with him, ready to help if need be although this angers him more than anything else. Even canines have the strong male pride, which is a non-negotiable point as far as Foofer is concerned. If I am even appearing to assist him in any fashion, he will bare his teeth and let me know in clear language that he does not appreciate my interference.
Therefore, I have been spending a lot of time next to my baby in the living room. I typically get up at four in the morning to let Foofer and Rainee outside, after which I sit on the couch with my cup of coffee and read a book or handwrite bits of Mind Sweeper. My current read is The Main Corpse by Diane Mott Davidson, and my current scribbles involve chapter seven for Mind Sweeper.
I don't mind writing by hand. As I've often said, the later input thereof often adds more elements to the story. However, my recent absence from the computer has left a pile of quadrille sheets that will take me an entire day to bring current. Again, I don't mind because I am spending close time with Foofer, and that is the most important thing to me right now.

Tags: Books & Reading; Foofer; Mind Sweeper; Photos & Other Images