Mind Sweeper
Deborah O'Toole is author of the haunting mystery/suspense novel Mind Sweeper.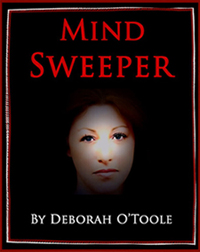 Story description for Mind Sweeper:
Newly-widowed Beth Mills accepts an outpouring of sympathy from her community after a freak mining accident takes the life of her husband, Aaron.

Unbeknownst to anyone, she is secretly delighted that her cruel husband is lost to her, but never expects his vicious ghost to return and haunt her in more ways than one. . .
> Click here to read excerpts from Mind Sweeper.
ORDERING OPTIONS (links open in a new window):
"MIND SWEEPER" BOOK INFORMATION:
ISBN: 978-1-4581-6185-7.

Released: 1 June 2011.

Kindle Edition: Sold by Amazon Digital Services; ASIN: B0053HHIKU; $2.99.

Kobo Edition: Sold by Kobo; available in desktop, e-reader, Kobo-Vox, Smartphone & tablet editions; $2.99.

Nook Edition: Sold by Barnes & Noble; BNID: 2940012889645; $2.99.

Smashwords Edition: Available in PDF, RTF & LRF; $2.99.

Model photo: (C) Arlen Roche.

Book Cover Design: Webs Divine.
For more, visit Deborah O'Toole's web site.