Keeker Talk
Posted Tue, 10/17/06
I don't mean to go on and on about Kiki, the new addition to our family, but I have to make one more observation.
Two weeks ago she came into our lives terrified, cold and hungry. In the short time since, she has become Lady of the Manor. We bought her a scratching post/cat tower and a soft bed with covering, and it only took her one day to become accustomed to the "luxury" of it.
The photo below is of Kiki in her "tower." Click on the image to see the larger size in a new window.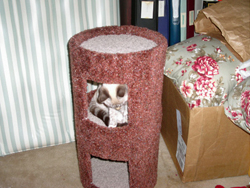 Wilbert has become feline-daft, buying her canned kitten food, a new – and larger – litter box, and a box of catnip with a toy. Kiki (also known as Keeker and Keekster), also likes eggs, cheese in miniscule quantity and lunch meat, lean ham being her favorite. However, her main diet remains dry kitten chow.
Kiki is part of the family now, although Foofer and Rainee still remain leery and ever-watchful. Knowing Kiki's personality, she will have them "undertow" (bowing and scraping) before too long.

Tags: Kiki; Photos & Other Images