Short Tales Collection
The Short Tales Collection by Deborah O'Toole contains eleven short stories written primarily for children, although adults have been known to like the tales as well.
From the author:
My pooch Foofer was quite a character. I never really treated him like a dog. We had a 'mother-son' relationship from the time he came into my arms at the age of six weeks until his passing more than ten years later. Foofer not only gave much love, joy and laughter, he also inspired me to write a collection of short stories with his shining character as the star. What began as a few "shorts" as I like to call them, developed into a series of stories about Foofer and his adventures.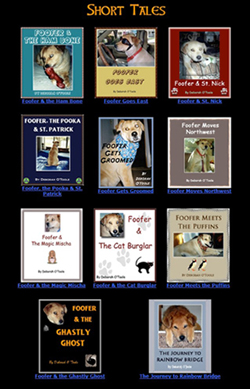 Select from the titles below to learn more about books in the Short Tales Collection, or to obtain ordering information:
For more, click here.