Cover Observations
Posted Fri, 12/21/12
My publisher just sent me the final artwork for The Keeper's Journal: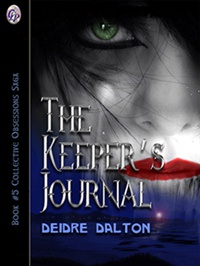 I absolutely love it. The cover accurately depicts my fictional city of Larkin, Maine along with the character on semi-transparent display. It could only be achieved successfully by someone who has read the book from first page to last, which my editor has already done.
Larkin is a harbor town. It has a famous landmark known as the Banshee Point Lighthouse, the beam from which is shown near the bottom right of the cover. The woman's face is Angela Page, who finds Colm Sullivan's old journal in the lighthouse keeper's cottage. Angie is the only daughter of Shannon Larkin, a prominent character in the Collective Obsessions Saga beginning with Book Three: The Twain Shall Meet through the finale, Book Eight: Megan's Legacy (coming in 2013).
Angie has striking green eyes, also made evident on the book cover. A few months ago I received a rather dismissive e-mail from a reader who complained "if I see another major character with green eyes I'm going to scream – green eyes are unusual but made so typical in fiction novels featuring a woman as the main character."
I beg to differ. Green eyes are not so unusual, at least not in my family. I can safely say 45% of my circle of family members – including myself as well as cousins, aunts and uncles – possess hazel eyes. Green peepers are very common in my world. Besides, how many hues can I use in a fictional family saga that spans more than 160 years? Should I invent my own eye color – perhaps orange?
To see a larger depiction of the book cover, go to Deidre Dalton's special Pinterest page for the novel.
In the meantime, keep your eyes peeled for the official book release of The Keeper's Journal on or around December 23rd 28th…