Nom de Plume
Posted Mon, 11/29/10
When Passion Forsaken is released by Club Lighthouse Publishing, it will come under the pseudonym of Deidre Dalton. It's not uncommon for authors to use pen names, although it's not something I've ever done before (aside from writing food articles as Shenanchie). After giving it some thought, I decided to give it a try.
I'll only use the moniker for romance-related stories, which will hopefully include the entire Collective Obsessions saga eventually. I'll use my real name for other work, such as poetry, Juvenile Fiction, historical fiction (In the Shadow of the King) and mystery/suspense (Mind Sweeper).
In the process, I've set-up a web site for Deidre Dalton with Webs Divine as the webmaster, of course. While still under construction, the flash intro is stunning and perfectly fits in with the story premise of Passion Forsaken. I could never have achieved the natural fluidity on my own, and was in fact inspired by a collection of free graphics made by Dragon Leaves.
The transparent animated graphics include flash clocks and "companions" divided into different categories: dragons and girls, both fantasy and gothic. I selected the scantily-clad Gothic lady for the intro to Deidre Dalton's web site, under which I created mouse-over images to enter the main page.
Inserting the flash animation with its accompanying codes and java script link was fairly easy, thanks to the simple instructions provided by Dragon Leaves. In truth, I spent more time testing the right mouse-over code than I did assembling the Gothic lady, who is surrounded by flickering candles as she looks at herself in a mirror.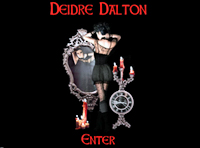 The selection of Deidre Dalton as a pseudonym was conjured from the past. My first husband's last name was Dalton, while Deidre has Irish origin.
According to Wiki Names:
Deidre is of Gaelic origin, and the meaning is usually cited as "broken-hearted" or "sorrowful." It may also be interpreted as "raging woman." The name comes from the character of an Irish myth, also known as "Deidre of the Sorrows." Related names/spellings: Deadra, Dedra, Dee, DeeDee, Deedra, Deedre, Deidra, Deidre, Deidrie, Didi, Dierdre, Diedrey....
Before anyone jumps to conclusions, the use of "Dalton" is in no way indicative of lingering feelings for my former husband. Quite the opposite is true. The pen name is simply easy to remember and even easier to say.
In fact, my first memory of "Dalton" came with the Eagles song Doolin-Dalton, many years before I even met my first husband.
Whatever the case, if you see a book written by Deidre Dalton in the near future, don't forget it's me.
Tags: Collective Obsessions; In the Shadow of the King; Mind Sweeper; Web Design/Computer Misc