Friday Ramble
Posted Fri, 11/04/11
Shelf Awareness has an interesting bit in their November 2nd newsletter, bringing attention to Book Trends That Need to Go Away:
Lackluster graphic novel/comic book adaptations.

"Self-help" guides doing more harm than good.

Bandwagon-jumping.

Self-indulgent celebrity memoirs.

"Revolutionary" diet plans.

Celebrity authors who just can't write.

"Women's literature" with reductionist views of women.

Remixing the classics.

Assuming genre fiction has nothing to say.

Dismissing all self-published literature.
The list was compiled by Kimberly Wilson at Accredited Online Colleges. To read the full article, click here.
On a humorous note, the Shelf Awareness newsletter for November 3rd contains reference to an article about bookstores in New York City with resident cats (re Kitty Porn: City Bookstores with Cats). Cute! The short article reminded me about my own animal-related experiences in stores and the workplace...
Many years ago I worked as a purchasing agent at the Pocatello branch of Fasteners (now closed), where we had a mixed tabby cat named Dolly who wandered the warehouse and slept atop my computer terminal for heat. It was around the same time Foofer was a puppy, so I brought him to work with me. He liked to greet customers at the counter and sleep under my desk. Dolly was none-too-pleased about his presence, though.
When Wilbert and I lived in Spokane, we used to frequent a small copy-print store that included a resident dog (always wearing a red bandana around his neck), and a dark, long-haired cat who liked to sleep on copy machine glass.
Speaking of books and animals, the photo below was taken of Kiki as she sat on top of the closet bookshelf in our house in Spokane (click on image to see larger size in a new window):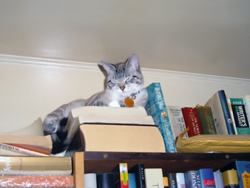 And that concludes my Friday ramble...
Tags: Books & Reading; Foofer; Kiki: Photos & Other Images; Writing