Books Et Al
Posted Sat, 10/27/12
Bits about my books...Et Al: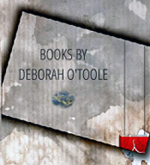 A new document featuring all of my books is now available for download in Adobe Acrobat (PDF) format. It includes information and book cover art on the seventy-one titles written or currently being written (4) by me as Deborah O'Toole, Deidre Dalton and Shenanchie O'Toole (Food Fare). Be warned, the document is eighty-six pages in length and is 4.31 MB in size. To obtain a copy, click here.
More Book News: An announcement about a free drawing for all eleven titles in the Short Tales Collection is coming very soon. Keep your eyes peeled! Short Tales Collection @ Facebook >
The Keeper's Journal is warming up as my next new release writing as Deidre Dalton. I'm keeping my fingers crossed that it comes out before Christmas...

Tags: Short Tales Collection (Foofer); Writing