Collective Guide
Posted Mon, 10/17/11
Wearing my Deidre Dalton writing hat for a minute, I've put together a fun (and free) guide to the Collective Obsessions Saga.
During the two decades it took me to write all eight books in the series, I developed quirks and tidbits not only for the characters but story locales as well.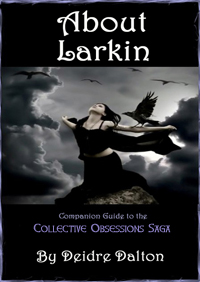 About Larkin is a culmination of the story-structure years, a compilation of characters and locations that formed during the writing process.
I'd like to think About Larkin will take the reader to my fictional paradise, from wine tastings at the Banshee Point Winery to midnight strolls in the Larkin Family Cemetery.
I didn't create About Larkin overnight or because I think the saga is hard to follow, but rather I'm offering it as an entertaining companion to the books themselves. Nothing more, nothing less.
Here's the teaser-blurb from my web site:
Visit the Banshee Point Winery to taste the exclusive Larkin Cognac, which comes in an elegant periwinkle bottle containing the perfect flavor bouquet of nuts, fruits, spices and flora. Make a reservation at the Silver Tassel Restaurant to indulge in sumptuous fare, or try the Amber Whale Tavern overlooking the harbor for fresh seafood. Bruno's Café offers homemade foodstuff, with all the latest gossip served up by waitress Berty Soames. Take a walk in Colleen Larkin Memorial Park, or visit the beautiful student Quad at LCU. The Larkin Harbor Tour Company will take you for a sail on the Lady Banshee to see the sights and hear the sounds. If water rides are not to your taste, try a day of shopping at Azoulay Gems, Brickyard Square, Harbor Hill, the Larkin Co-Op, Nook & Cranny or the Wee Book Shop. Wind down with a drink or two at The Coven Nightclub or Suds Pub. If you're in the mood for a good scare, pay a visit Larkin City Cemetery to have a chat with former locals.

Befriend a member of the Larkin family and tour their grand estate. The elaborate mansion attic holds years of secrets that might curl your hair, or bypass the bitter memories to view Larkin City from the breathtaking Widow's Walk. Stroll down to the Banshee Point Lighthouse to take a long gander over the Atlantic Ocean, or visit the keeper's cottage to relive the tragic romance of Molly Larkin and Colm Sullivan. Head back to the mansion to take tea with the family in their drawing room, or wait until dinnertime to partake vittles in the imposing and opulent dining room.

After dinner, take a stroll in the eerie family graveyard - but be warned: don't go alone or you might never come back...
Did I mention About Larkin is free?