Celtic Cover History
Posted Wed, 10/10/12
Like some of my other books, Celtic Remnants has a varied cover history. My idea for the book came around 1984, but it was many years before I even considered ideas for a cover.
This was the first, which was designed in 2001: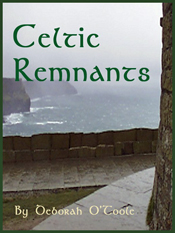 The view of the sea coast has special meaning. The main character Ava Egan travels by boat between Ireland and England during her terrorist forays.
Later, the design became more austere (click on image to view larger size in a new window):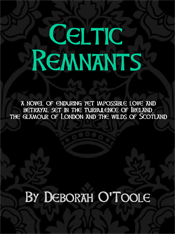 Playing around with the design was fun, but purple didn't cut it for me: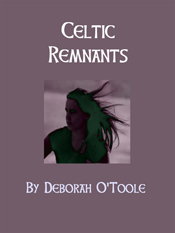 My cousin Sheila ultimately became the model for variations of the final cover. People often tell me I bear a striking resemblance to the woman on the cover, but it's not me. Out of all our family members, Sheila and I are the two who look most alike. On one surprising occasion, even one of Sheila's children mistook me for their mother. Sheila and I were walking down the street in Heber City (sometime in the early 1980s), when her young daughter came running up behind us. She reached out and tugged on my long hair, calling me "Mama." Sheila had a good chuckle over that one.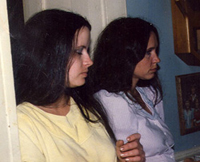 The final cover for Celtic Remnants was designed around a photograph of Sheila, which was taken many years ago. To me, the background looked like the coast of Ireland – depicting the character Ava as she goes back and forth across the Irish Sea to take care of "business" – so naturally I thought it perfect for the book cover. It was either going to be that, or an image of a broken Irish rosary.
Photo of Sheila used for the cover of Celtic Remnants (click on image to view larger size in a new window):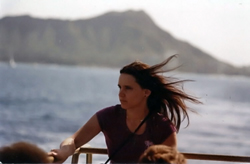 Variations of the final cover: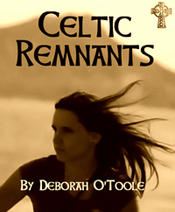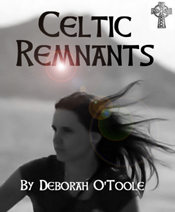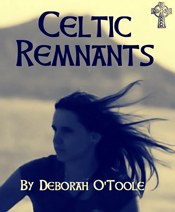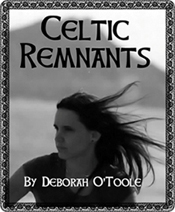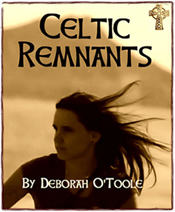 And at last, this became the final cover (click on image to view larger size in a new window):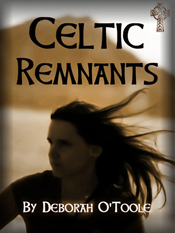 A variety of software programs were used in creating the cover designs, including Fireworks, Photoshop, Microsoft Digital Suite and Smart Photo Editor.
I'm putting together a special web site devoted to Celtic Remnants at the moment, which should be unveiled later this week or early next.
*POSTSCRIPT 10/11/12: Official web site for "Celtic Remnants" launched.