Espresso Book-Making
Posted Fri, 09/23/11
The progression and innovation of book-selling continues to amaze me. When I signed my first publishing contract with Tyborne Hill in 2003, e-books were a great idea but hadn't really caught fire yet. Now, electronic reading devices have turned the publishing industry upside down. Who could have ever guessed e-books would outsell print books, with the gap growing larger almost every month?
An article in the September 23rd issue of Shelf Awareness reports Harper Collins has developed a new "DPR" Program, whereby booksellers with the Espresso Book Machine can print-on-demand back-listed titles in the Harper Collins catalogue for their customers.
According to the article, the "Comprehensive Backlist Program" will allow "brick-and-mortar bookshops with the Espresso Book Machine to promote and sell the publisher's backlist titles."
Can you imagine walking into a traditional bookstore to ask for a specific title, and then watching as it's printed before your eyes?
If the idea catches, I'm quite certain other publishers will jump on the bandwagon. Remember, a few short years ago e-books were a rather dead notion and now they have taken over. We have a multitude of e-readers to choose from, with different entities selling their products (re: Amazon and Barnes & Noble). It's not hard to imagine technology taking the books and reading experience even further.
The Shelf Awareness article continues:
"Even as digital book sales grow, bookstores continue to be an important place for customers to shop for physical books," said Brian Murray, president and CEO of Harper Collins. "The goal of this initiative is to give the local bookseller the capability to provide customers with a greater selection of Harper Collins titles in a physical environment. For authors this is a win; titles will be more broadly available, which increases sales with full print royalties. Depending on the size of the store, 25%-80% of our backlist titles are not stocked due to physical space limitations. Digital-to-Print at Retail (DPR) technology means the books will be there for the consumer at small and large bookshops."
According to Wikipedia, the Espresso Book Machine (EBM) "is a print on demand (POD) machine that prints, collates, covers, and binds a single book in a few minutes. The EBM is small enough to fit in a retail book store or small library room, and as such it is targeted at retail and library markets. The EBM can potentially allow readers to obtain any book title, even books that are out of print. The machine takes as input a PDF file and prints, binds, and trims the reader's selection as a paperback book."
The economic consequences, again according to Wikipedia, are profound:
The direct-to-consumer model of the EBM eliminates shipping, warehousing, returns and pulping of unsold books, and allows simultaneous global availability of millions of new and backlist titles. These characteristics may in the future lower prices to consumers and libraries, and allow greater royalties and profits to authors and publishers.
The EBM looks like a huge copier: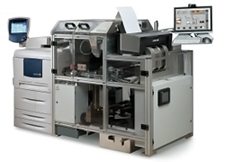 For more information about the machine, and to see a video of the EBM in action, visit On Demand Books.
In essence, the EBM is undoubtedly the publishing industry's response to the extraordinary success of e-books. While I favor electronic books and e-readers for the most part, there are still those times I like the feel of a bound book in my hands. I'm sure I'm not the only one.
However, it's difficult to lug around dozens of book to read at whim. I'd much rather store hundreds - or thousands - of titles in an e-reader and be on my merry way.
Tags: Books & Reading; Writing