Work Rigaramole
Posted Fri, 07/20/12
I've been tearing my hair out - figuratively speaking - for the last week or so, re-formatting and otherwise prepping more than forty titles for addition in the new author program at Kobo Books.
In truth, there were some days I didn't even bother brushing my long and unruly hair after tumbling out of bed (good grief - the ends nearly reach my hips now). Instead, I just got to work. By most day's end, my rats nest - perpetually tied into a pony tail - stuck out on the sides and frizzed on top. I was quite a prize-sight for awhile, yes indeed.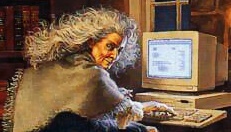 Kobo Writing Life is similar to the author programs offered at Amazon and Barnes & Noble. In a nutshell, the programs allow authors to upload their writing content and cover designs to sell in a variety of electronic formats. There is no up-front charge to the author, except in the form of splitting royalty percentages. Still, the royalties are much higher than one receives by going through a traditional publisher: 70% as opposed to 40%. Plus, the author has total control over content and cover design with the likes of Amazon, Barnes & Noble and now Kobo Books.
Anyway, while I cannot touch the nine novels I have contracted with Club Lighthouse, I can do as I please with the rest. All thirty-four titles in the Food Fare Culinary Collection are now selling at Kobo Books, along with three cookbooks I've had a hand in: the Food Fare Cookbook, Larkin Community Cookbook and the Recipes-on-a-Budget Cookbook. On top of that, I added Bloodfrost, Celtic Remnants, Mind Sweeper and Torn Bits & Pieces. Come this weekend, I hope to complete the upload of the eleven titles in the Short Tales Collection as well.
I'd barely finished uploading the last of the Food Fare Culinary Collection last night when sales started taking place (the first of which originated from Japan with the purchase of German Gourmania).
I was surprised - as always - yet very pleased.
The "technical" side of being an author is enjoyable once in awhile as a change of pace, but in all truth I'd rather be writing.

Tags: Writing