"Quixotic Crossings" Debut
Posted Tue, 07/05/11
Finally, finally...drum roll please!
Quixotic Crossings was officially released by Club Lighthouse Publishing today.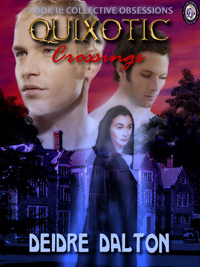 The book is part two of the Collective Obsessions Saga, written by yours truly using the pseudonym Deidre Dalton.
Fate continues to entangle the Larkin and Sullivan families amidst madness, murder and obsessive love. Colm and Molly's grandson Jean-Claude Sullivan finds his life driven by greed and perversely tainted pleasures. Beloved family chef Claude Mondoux watches helplessly as Colm slowly loses his mind in ghostly visions of Molly, while Colleen Larkin seeks love in the arms of another man with deadly consequences...
For those who have followed the story since Passion Forsaken, the three characters depicted on the cover of Quixotic Crossings are the ghost of Molly Larkin (kind of looks like Vivien Leigh/Scarlett O'Hara, doesn't she?), along with Jean-Claude Sullivan and his "good friend" Mason Berger.
Quixotic Crossings is currently on sale at the Club Lighthouse web site, and will also be available as a Kindle download from Amazon in August 2011.
Several excerpts from the book are now online, including three samples on my web site and one at the publisher's site.
While the four-month delay in the release of Quixotic Crossings was a tad frustrating, I'm now tickled pink that the novel is out and about. It's unlike anything I've ever written before. It's not quite a typical romance, imbued more with gothic mystique and quirky madness.
I think it's safe to say Quixotic Crossings stands proudly and very well on it's own.
Two down, six more to go...