Quixotic Two
Posted Fri, 07/04/14
Quixotic Crossings by yours truly writing as Deidre Dalton has been re-released to commemorate its third anniversary, along with a new cover. The novel is the second book in the Collective Obsessions Saga.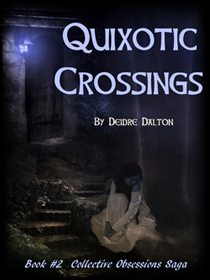 Fate continues to entangle the Larkin and Sullivan families amidst madness, murder and obsessive love. Colm and Molly's grandson Jean-Claude Sullivan finds his life driven by greed and perversely tainted pleasures. Beloved family chef Claude Mondoux watches helplessly as Colm slowly loses his mind in ghostly visions of Molly, while Colleen Larkin seeks love in the arms of another man with deadly consequences...
Quixotic Crossings is book two in the Collective Obsessions Saga, which chronicles the extraordinary loves and obsessions between two families sweeping a span of more than one hundred years, all set against the backdrop of a Gothic seaside mansion in Maine.
Quixotic Crossings was originally published by Club Lighthouse in 2011.