Mind Sweeper
Posted Wed, 06/01/11
Just a short while ago I was offered a contract for Mind Sweeper, which was very happy news for me. I received the contract, but never mailed it back to my publisher.
Releasing all eight books in the Collective Obsessions Saga comes ahead of other titles, so I figured Mind Sweeper wouldn't see the light of day until 2012 or later.
I vacillated between the contract offer and doing it solo for a few weeks. Time and inevitable delay became the deciding factor for me, so I chose to go forward with Mind Sweeper on my own.
That being said, I don't want to take anything away from the books in the Collective Obsessions Saga. Needless to say, I'm very proud of the work and anxious to see all eight titles released in due course.
Now on with Mind Sweeper...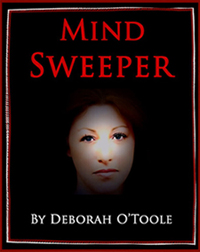 The book is available in both Kindle (Amazon) and Nook-Book (Barnes & Noble) editions. The cover model was taken by photographer Arlen Roche, which is a rather a stunning fictional rendition of the main character in the story.
Speaking of story, Mind Sweeper is described as follows:
Newly-widowed Beth Mills accepts an outpouring of sympathy from her community after a freak mining accident takes the life of her husband, Aaron.

Unbeknownst to anyone, she is secretly delighted that her cruel husband is lost to her, but never expects his vicious ghost to return and haunt her in more ways than one.
The book is priced at $2.99 at both Amazon and Barnes & Noble. I've also provided two excerpts on my web site.
As always, I'm interested in feedback from any and all who may read the book and have something to say about it, good or bad.
Tags: Mind Sweeper