Author Tasks
Posted Sun, 04/09/06
My only domestic chore today is to water the plants so I can devote the rest of my time to writing-related "work." I've jugged between Celtic Remnants (printing one original hardcopy of the final version, and browsing possible agent/publisher submissions), and writing, revising and piecing together Collective Obsessions.
Most publishers and/or agents prefer manuscripts to be double-spaced upon submission. I cringe at the requirement because of the large waste of paper and ink, which comes out of my pocket. I wish more folks in the business would allow for electronic submissions, but then again they would have to pay the price of printing if that was the case. I do try to find those who accept electronic submissions, but they are few and far between.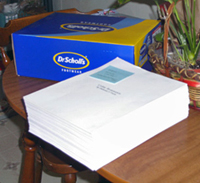 Double-spaced, Celtic Remnants is 751 pages (see photo above). That's more than a ream of paper, and at least one black ink tank. Wilbert gave me one of his large shoe boxes to store the manuscript in, where I can keep it clean for future copying. On top of mailing costs, the whole submission process can run into quite a bit of money. C'est la vie.
Writing and revising is much more rewarding. At least there are instant results, in most cases, and it certainly fuels the creative process.
"Shuffling" paperwork during the submission process is not my idea of a good time.

Tags: Celtic Remnants; Collective Obsessions; Photos & Other Images; Writing