Free Mind Sweeper
Posted Thu, 04/04/13
*Please Note: The Mind Sweeper free weekend has since concluded.*
The e-book edition of Mind Sweeper will be available for free from Friday, April 5, 2013 to Monday, April 8, 2013. The offering includes the complete novel in Kindle (MOBI), Nook (EPUB) and PDF formats.

The free edition of Mind Sweeper will be available at Novel-Nook for the four-day duration.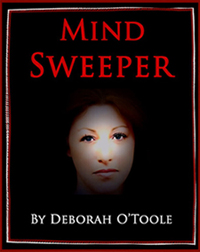 Newly-widowed Beth Mills accepts an outpouring of sympathy from her community after a freak mining accident takes the life of her husband, Aaron. Unbeknownst to anyone, she is secretly delighted that her cruel husband is lost to her, but never expects his vicious ghost to return and haunt her in more ways than one. More >
Please Note: If you don't have a Kindle or Nook-Book reader, download the Kindle Reader for PC or the Nook for PC. Both programs are free.
Enjoy!
*Please Note: The Mind Sweeper free weekend has since concluded.*
Tags: Mind Sweeper; Book Promotions