Work Space
Posted Sun, 03/23/08
Yesterday afternoon I cleaned my "work space" as I could no longer stand the piles of paper and sticky notes littering my desk. I have to admit I'm obsessed with organization, so if my surroundings are askew I have a hard time concentrating. I can only let the disorder go for so long before I have to rectify the situation.
After cleaning I try to maintain order, although it's difficult when all my work has to do with handwritten and sticky notes, along with reference books, language dictionaries and other sundry.
After clean and working after the clean: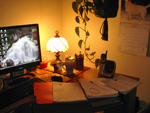 I should have taken a picture of the mess beforehand, but that's one image I'd rather not have as a reminder.

Tags: Photos & Other Images; Writing