Book Cover Lovers
Posted Mon, 03/05/12
The first three titles in the Collective Obsessions Saga are being featured on Book Cover Lovers today:
Please Note: Prior to seeing cover previews, a "Content Warning" may be displayed to advise "the blog that you are about to view may contain content only suitable for adults." Not to worry, the images are just book covers for the titles mentioned above. Simply click "I understand and wish to continue."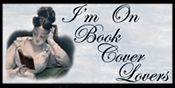 Book Cover Lovers is a web site which spotlights various books and their covers, with links to author information and purchase options.
Thanks to my publisher Club Lighthouse for the heads-up!