Book Buttons
Posted Wed, 02/09/11
Here's a few more publishing particulars about Passion Forsaken:
"Passion Forsaken" by Deidre Dalton

Club Lighthouse Historical Romance Edition

Released: February 2011

ISBN: 978-1-926839-67-7

Amazon Kindle ASIN: B004NEVSWS

Series: Collective Obsessions Saga, Book One
I've been told Quixotic Crossings, part two of the Collective Obsessions Saga, will be coming out next month. Saints preserve me!
In the meantime, I created a few buttons to mark the release of Passion Forsaken: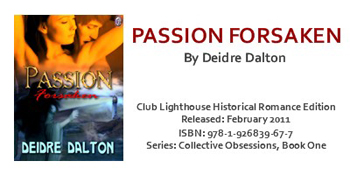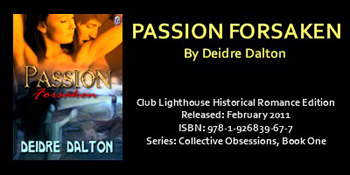 Designing the buttons was a nice break from routine this morning, but now it's back to work...
Megan's Legacy beckons.
*POSTSCRIPT 03/01/11: Passion Forsaken has also been added to the Fictionwise store in Nook Book (e-reader) format.