The Advent
Posted Sat, 02/01/14
"Passion Forsaken" has been renamed and rereleased as The Advent. The novel is the first book in the Collective Obsessions Saga.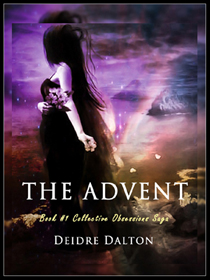 Forbidden love and dark secrets haunt two Irish families hacking out a new life in 19th-century America. When Molly Larkin's father discovers her affair with lighthouse keeper Colm Sullivan, his reaction pitches her into madness. Yet the legacy forges a bond of blood that will endure for generations.
The Advent is book one in the Collective Obsessions Saga, which chronicles the extraordinary loves and obsessions between two families sweeping a span of more than one hundred years, all set against the backdrop of a Gothic seaside mansion in Maine. The Advent was previously published as "Passion Forsaken" by Club Lighthouse and Tyborne Hill.
Quite frankly, I've always disliked the title "Passion Forsaken." However, through various publishers over the years, the moniker was beyond my control. The book is not a steamy romance in typical Harlequin fashion, nor is it a fluffy piece about unrequited love. The story actually launches the Collective Obsessions Saga, an eight-part series which follows two Irish families from their arrival in America to the present day. The books weave through more than one hundred forty years of fictional family history filled with avarice, madness, murder, mystery, paranormal activity, romance, self-indulgence and macabre Gothicism. It's hardly light reading.
To that end, I elected not to renew my publishing contract for "Passion Forsaken" as the three-year term came about in February 2014. Call me crazy, but I decided to take control of the book and do my own thing. Renaming the novel was my first priority, as was designing a new book cover. The story is the same as "Passion Forsaken" from start to finish, so little text editing was necessary.
I also had issue with the ordinal pricing of the book decided by the publisher ($5.99). The Advent is the shortest title in the Collective Obsessions Saga (roughly 130 pages), so I felt $0.99 was a bit more appropriate. Some publishers might feel pricing the book at $0.99 is a form of "devaluing" the author, but I strongly disagree. Some of the best books I've read in recent years have been by unknown authors trying to make a break in publishing. There are many good writers out in the world, and I think most consumers understand the difference between crap and quality from the first chapter. Being an avid reader myself, I would never pay $5.99 or even $4.99 for a general fiction e-book even if it was written by Ernest Hemingway or Stephen King. Many people are struggling financially these days, so $5.99 for one e-book is a lot to ask of them.
However, I want to make clear my appreciation to Club Lighthouse Publishing (especially Terri Balmer) for giving all right books in the Collective Obsessions Saga a chance. I will never forget her generosity.
Although The Advent is no longer available at Club Lighthouse, the remaining seven books in the series are.
Tags: Collective Obsessions Saga; Cover Evolution (07/09/12).