Cover & Contracts
Posted Sun, 01/30/11
Last night I went to bed around eight-thirty, intending to rest and watch a bit of television after a long day of writing. Instead, I fell into a coma-like sleep and didn't awaken until six-thirty this morning. I haven't had ten hours of straight slumber in years.
My publisher sent me a preview of the cover for Passion Forsaken (see below). Click on the cover to see it's larger size in a new window: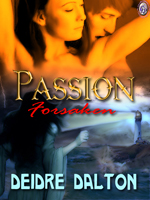 To me, it depicts the two main characters Molly and Colm during their time together, and then Molly's later angst. Her attention is directed toward the lighthouse, which symbolizes Colm in a way. I'm very happy with the results, thanks to Terrie at Club Lighthouse Publishing.
Book details:
Club Lighthouse Historical Romance Edition

Released: February 2011

ISBN: 978-1-926839-67-7

Series: Collective Obsessions Saga, Book One
Another glorious bit of news to awaken to was the presence of two more publishing contracts in my email inbox this morning. The Keeper's Journal and Hearts Desires are now on the roster for publication in 2011. Or am I still asleep and dreaming?
Maybe I'm not really awake and need to keep pinching myself...