Arabic Offering
Posted Tue, 01/21/14
Finally - Arabic Cookery is complete.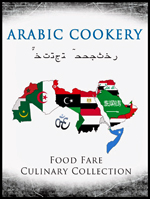 Arabic Cookery contains more than 250 traditional recipes from Algeria, Bahrain, Chad, Comoros, Cyprus, Djibouti, Egypt, Eritrea, Iran, Iraq, Jordan, Kuwait, Lebanon, Libya, Mauritania, Morocco, Oman, Qatar, Saudi Arabia, Somalia, Sudan, Syria, Tunisia, United Arab Emirates and Yemen. The book also contains common food words, information about holy days and other traditions, and resources for further study.
Arabic Cookery took me nearly one year to put together, so needless to say I'm very happy that it's finished.

Tags: Writing & Editing