Jack Sansovino
Posted Mon, 01/14/13
Jack Sansovino was a nasty piece of work, probably the most loathsome character found in the Collective Obsessions Saga.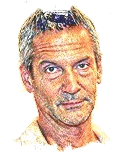 He first appeared in Enthrallment, working for Carly O'Reilly as her sous-chef de cuisine (under-chef of the kitchen) at Harbor View Catering (HVC). Jack was smooth, self-confidant and as unruffled as a tranquil lake. He was tall (6'5"), with black hair, dark eyes, olive-tinted skin, and thin yet somehow still sensuous lips. He drove a black 1968 Corvette C3, given to him by older brother.
Jacopo (Jack) Sansovino was born in 1967 in Little Italy, Manhattan, New York. His mother Adelina named him after Jacopo d'Antonio Sansovino, an Italian sculptor and architect known best for his works around the Piazza San Marco in Venice. Jack had one older brother, Antonio (Tony), and one younger sister, Desideria (Désirée). Their father Mario owned Sansovino's Restaurant & Italian Market on Spring Street in Little Italy. The family home was contained in an apartment above the restaurant and market.
Jack worked in the family restaurant as a teenager, but left to find his own way after Mario decided to eventually give the family business to his oldest son. Jack moved to Larkin City to attend Larkin City University's Chefs Program, where he also got a job at Harbor View Catering in 1989. HVC was owned by Carly O'Reilly, Liam Larkin's wife.
Jack had a problem with gambling. He frequented the Showboat Casino in Atlantic City, and later the Hollywood Slots at Bangor Raceway (Racino), where he played slot machines, table game roulette, and placed bets on live harness racing.
In December 1990, Jack attends the HVC Christmas party. He spikes Carly's drink with Flunitrazepam (aka roofie, date-rape drug) and then takes her to his flat on King Street, where he rapes her. He also allows several of his "buddies" to take turns with her. The "buddies" are actually bookies and loan sharks to whom Jack owes money. He permits them to rape Carly repeatedly in order to erase his gambling debts to them. Because Flunitrazepam impairs memory, Jack dresses Carly after the gang-rape and puts her back in her car, which he then parks a short distance from the Larkin mansion.
Carly is not certain about what Jack has done to her. Because she has no vivid memory or concrete proof of what happened, she does not confront him. He never mentions the night she came to his flat, nor does she question him about it. Their working relationship remains the same. After Carly commits suicide in 1995 (re: The Keeper's Journal), Jack continues to work at HVC for another six months, but then takes a job as Executive Chef at the Amber Whale Tavern.
In Hearts Desires (coming in 2013), Jack sees Jamie Page having lunch at the Amber Whale. They begin a friendly conversation that soon leads to a dinner date. Despite his penchant for forceful rape, Jack is not known to interact with men. However, after meeting Jamie and understanding his relation to the Larkin family, he decides to plunge into a full-blown sexual relationship with Jamie. Jack is more interested in the wealth of his new lover, hoping it will benefit him somehow.
Jack rapes and beats Jamie one night after a drunken argument, forcing him to flee the country. Jack's reign of terror didn't end there, however. In Megan's Legacy (coming in late 2013), Jack returns to Larkin City to demand money from his sister Désirée.
Instead, Jack finds his own swift justice from where he least expects it.
Note: The image of Jack Sansovino is a pastel-illustrated variation of musician Billy Squier.