Celtic Blog Talk
Posted Thu, 01/12/12
This Sunday, I'll be the featured guest on Blog Talk Radio. My interview is scheduled for 9:00 PM EST. As of this writing, I'm not sure if it will stream live or be broadcast later.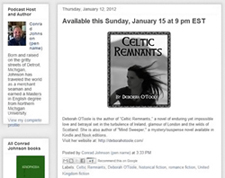 The 30-minute interview will be conducted by John Byk, M.A. from Writers ALIVE 2012, and will focus on Celtic Remnants. Hopefully, transcripts from the interview will be made available at a later date.
I was contacted about doing the interview via the Fiction Writers Guild last month, when John Byk asked me to take part. It proves that social networking does make a difference now and then!
Click here for more information about the interview.
*POST-SCRIPT 01/17/12: While the interview audio is now online, transcripts will not be made available in the near future. The interview is thirty minutes in length and I don't have the spare time right now to transcribe it into text. Apologies! To hear the entire interview online, click here.
Tags: Celtic Remnants