New Collective Digs
Posted Thu, 01/03/13
Speaking of the Collective Obsessions Saga, the official web site for the books was re-designed over the holidays: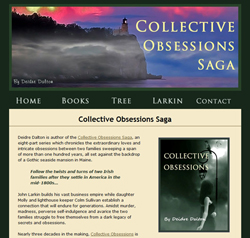 The "header" image was created using the Smart Photo Editor. I found the "fog" element quite by accident, but fell in love with it instantly.
In my eyes, the image is simply perfect for the saga. It syncs with the entire storyline backdrop.
In addition, a story-related poem was added on the intro page of the site:
Trapped incandescent swirls;

like raptly churning ocean waves.

Through milky, translucent pearls

and collective misty mind caves.

Kith and kin disavow as one;

twelve decades and seven of obsessive love.

No one has forgotten, and no one has won;

and yet forever dwell spellbound thereof.
I penned the poem (also dubbed Collective Obsessions) nearly two years ago, just as I finished writing Megan's Legacy. It was meant as an adieu to the saga, which briefly describes the storyline in prose.
The poem also appears in my collection Torn Bits & Pieces.
Tags: Collective Obsessions Saga; Photos & Other Images; Web Design