Mish Masher Saturday
Posted Sat, 11/28/09
If all goes according to plan, I'll be having hip replacement surgery the first week of February 2010. The delay is due to the insurance company's hospital preference, and my doctor's schedule at the same hospital. After surgery, I will be in hospital for five to seven days, with up to six weeks of recovery time at home on crutches.
My doctor has assured me that replacing the hip will also fix my back pain issues in due course. Because my hip has been so bad for so long, it has pulled on my left lower back muscles, creating another source of excruciating pain. Some days the back pain is worse than the hip, and that's saying quite a lot. (Click here for more about that).
So perhaps by Spring 2010 I'll be dancing a jig?
On a completely unrelated note (hence the "Mish Masher" title of this blog entry), I am waiting with great anticipation for the early December release of Mystery Case File's new game Dire Grove.
The description from Mystery Case Files:
In fall of 2009, four graduate students traveled to a small township near Blackpool, England. They were never heard from again. Considered a fairytale, its telling was common at campfires and as a bedtime story meant to frighten small children into staying in their beds through the night. However, a recently unearthed artifact in the United Kingdom corroborates the legend and so begins a journey of survival for a small band of graduate students in the secluded resort of Dire Grove.
I could get the game now and pay $19.95 for the Collectors Edition, but I'd rather wait until December and use one of my free Big Fish game credits. Mystery Case Files make some of my favorite games, but I'm still not willing to fork over four fivers for the new one.
I also have my eye on the new Agatha Christie: Dead Man's Folly, and have experimented with the trial version. It's great so far but not offered by Big Fish yet, so I'm not keen to spend twenty dollars for it and another twenty for Dire Grove. One or the other has to give, so Dire Grove has to wait until the general release next month.
On yet another unrelated note, this is a new picture of Kiki with my mother (click on the image to view larger size in a new window):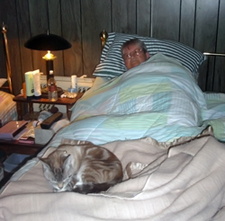 Kiki hasn't been in heat for several weeks now, so the social interaction between her and Rainee has not been the best of late. During the past week, there have been four dramatic confrontations which I don't care to repeat. For the time being, I have to keep my darling little girls apart. They take turns in and out of my room and the house, so it's like a constant shuffle every day to make sure they don't come face to face.
I love both of them so there is no question of getting rid of either one. They are also my last live links to Foofer, so it is my very agreeable commitment that they never feel hunger, the stress of abandonment or the absence of unconditional love.
*Related post: Hip News (06/17/09).
*OTHER RELATED POSTS:
Tags: Games; Kiki; Photos & Other Images; Rainee