Food Fest 07
Posted Sat, 11/24/07
Thanksgiving was nice and mellow, the way it should be. I am thankful for so many things – the wonderful presence of Foofer still in my life, a roof over my head, my family, my sometimes-debatable health and the steady progression of my work. I am thankful for continued inspiration because as any writer knows the supply can run itself out at any given time, only to return after endless head-bashing and tortuous soul-searching.
Foofer and Rainee enjoyed large amounts of turkey on the day, with Foofer rooting around in the kitchen even before the bird was done. Every time someone opened the refrigerator, he rounded about to stick his head inside to have a look – as if to say: "Okay, where's the bird?" Once it came out of the oven, the furtive glimpses were history and the feast was on. Animals have this amazing ability to make their owners feel guilty with highly-practiced stares, intense steady gazes that give the impression of utter sadness, neediness and haughtiness all rolled into one. I should have served their canine royal highnesses on a silver tray with milk-bone garnish.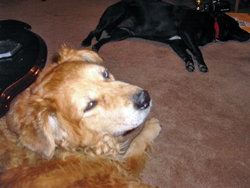 The weather is holding nicely – no snow yet – but although it's sunny, the air is cold and laden with the impending onset of winter. I'd rather have icicles hanging from the house than the sizzling and miserable heat of summer, thank you.
Tags: Foofer; Photos & Other Images; Rainee