New Digs
Posted Mon, 10/01/07
Last Saturday I was surprised to see a mixture of snow and rain in the afternoon. For October, it's a bit extreme even for the area I live in. However, since I have been heartily sick of the lingering summer for several weeks the change in temperature is quite welcome.
I can say with all honesty that I am settled into my new digs. No more boxes left to unpack, everything is in its place, and the "kids" are calm, relaxed and very content in their new surroundings. Since it's just me and my kids there is an air of vibrancy and happy expectation about our life together now, which is thankfully lacking the ever-present tension and apprehension of our former existence.
Speaking of kids, below is a new image of Kiki. I took it the other night, and it almost has a dreamy quality about it, as if someone painted her likeness rather than snapped her living photo. Click on the picture to see its larger size in a new window.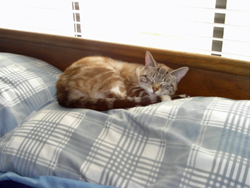 Now that everything is in order, I've been writing like I used to: with inspiration, reflection and enthusiasm. The days aren't long enough to squeeze it all in, and time seems to be flowing by too swiftly.
I am one of those sorts of people who cannot concentrate properly if a room I'm working in is in disarray or if my personal notes and research are in a jumble. When I originally packed my belongings (was it only a few weeks ago?) I made sure to keep everything in careful order so that unpacking them would be a somewhat efficient transition.
So far, it's worked.
Tags: Kiki; Photos & Other Images