Buried in Boxes
Posted Fri, 09/21/07
We are finally settled. Exhausted, but settled. The initial car journey took more than thirteen hours (made longer by frequent stops for the dogs), and we did it all in one day. I don't recommend being crammed into a Lincoln Continental with two dogs, a cat in a carrier and three adults. However, the animals did very well considering the circumstances.
I've spent the last several days unpacking boxes, and I'm still not finished. How does one accumulate so many "things" in the course of a lifetime? I must have more than a thousand books, not to mention an overload of computer equipment and related paraphernalia.
The picture below depicts my new desk and home work station. Click on image to see the larger size in a new window.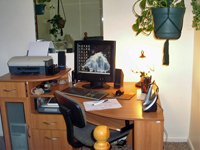 My first priority, naturally, was getting my computer and the high-speed Internet established. Surprisingly, the telephone company was more than cooperative and I was up and running within four days.
I'm tempted to rest for a few days, but tomorrow I'll be back to unpacking the seemingly endless supply of moving boxes. I think I have only forty-six left to unravel.
Tags: Photos & Other Images