Dear Wilbert
Posted Fri, 09/02/11
Wilbert passed away this morning. I knew he was desperately ill and didn't have much time left, but the suddenness of it all was unexpected. Just yesterday, his doctor gave him anywhere from two weeks to a few months to live because the cancer had spread to his lymph nodes.
We planned to get together this morning to talk and go over various personal issues, but an early call from his brother George indicated the abrupt urgency of the situation. Mum went with me to Davis Hospital, where EMT's had taken Wilbert in an ambulance. We were too late. He died just before we got there, having suffered cardiac arrest and then failing to respond to all resuscitation attempts.
The rest of the morning was like a blur. We went back to George's house, where I tried to write an obituary for Wilbert at George's request. We were all basically numb. It's hard to comprehend that this giant bear of a man is gone, truly gone. He was kind, considerate and gentle, a person who never wished harm on anyone. Even during his last weeks of great pain and suffering, his thoughts were of others as made obvious by some of the instructions he left behind. I won't go into them because of their personal nature, but suffice it to say he was unselfish to the end.
There won't be a service or viewing because Wilbert didn't really know anyone in Utah (having just arrived last June), and because he chose cremation over burial. The obituary will run on Sunday and Monday in the Standard Examiner. Here's the gist of it:
Wilbert Albert Alviso, 54, passed away in Layton on Friday, September 2nd after a brief illness.

The youngest child of John and Elva Alviso, Wilbert was born in East Chicago, Indiana and raised in Gary. He also lived in Orange Cove, California, where he graduated from Reedley High School. He also attended Fresno Technical College and later received an Associates Degree from Kings River Community College in Reedley.

Known as "Bear" by his friends and co-workers, Wilbert was a CNA (certified nursing assistant) for more than twenty-five years. His gentle manner touched both patients and staff at Okanogan Douglas District Hospital and Columbia Medical Clinic in Brewster, Washington; at Whitman Health & Rehabilitation Center in Colfax, Washington; and at St. Luke's Rehabilitation Institute in Spokane.

Wilbert was preceded in death by his father, John Alviso. He is survived by his mother Elva Alviso (Orange Cove, CA); brother George Alviso (Layton), sister Dolores Pasillas (Richard), sister Rita Duran (Alfredo) of Orange Cove; nieces and nephews Freddie, Steven, Elizabeth, Marisa, Monica and numerous cousins, aunts and uncles.
I didn't throw myself into the mix because I don't want to interfere with his family's grieving process. True, Wilbert and I were still legally married and remained the best of friends, but it didn't feel right to include myself in the small bit about his life. I also chose the photo, which was taken several years ago when we both worked at Lakeview Hospital.
The grief comes over me in washes. I can be fine one minute, and in the next I'm crying my eyes out. George has taken the worst brunt of it all, so in a way I'm trying to remain strong for him – even when I don't feel strong. Wilbert was unforgettable to not just me and his family, but to many others who knew him over the years. His loss is indescribable.
Mum has been there for me throughout this ghastly day, but there has been little said by my so-called father. At this point, I don't care about preserving the duplicitous face he presents to most people who know him, including nieces, nephews and other family members. He hides his true face and lack of character for the most part, fooling just about everyone he comes into contact with. Not today. His sour misery and mental issues were noted by one and all, especially George who received not one word of condolence from a man I'm disgusted to acknowledge as my biological father. The behavior is nothing new, nor is it his typical way of dealing with emotional trauma. It is his true character, choose to believe it or not, and one I've long been ready to wash my hands of.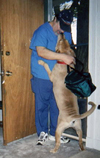 I'd like to thank all the people at the hospital, strangers all but giving of their emotional selves nonetheless. I can't thank them in person as I don't know their names, so this will have to serve.
Wilbert deserved a better life than he was dealt. If there is a hereafter, I just hope he is being amply rewarded for the good he did while on earth. I'd like to believe there is a heaven. Right about now, maybe Wilbert is finally getting to hold Foofer in his arms. I was blessed to have both of them in my life. I can only hope they don't mind being my guardian angels a little while longer.
Tags: Foofer; Husbands; Photos & Other Images