Perfect Bliss
Posted Wed, 08/03/11
This is my kind of bookstore: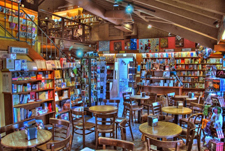 Doesn't it look simply inviting? In all my years of haunting bookstores in various American states, I've never seen anything as welcoming as the Upstart Crow. I can't think of a more appealing venture than grabbing a book and a cup of coffee for an afternoon of sheer pleasure. What bliss!
I found the link to Upstart Crow via Shelf Awareness. Perhaps someday I'll make it to San Diego and give the place a whirl.
*Image copyright: Upstart Crow Bookstore & Coffeehouse.
Tags: Books & Reading