Babies & Me
Posted Mon, 07/27/09
I don't understand people who will not share their beds with their own dogs or cats. Some fussier folks find the idea of snuggling with their pets as unthinkable, along with not allowing their furry friends on the furniture.
Rainee sleeps with me every night. She has her own blanket and pillow, but by morning we are usually "spooning." She stretches her body alongside the back of my legs and fits the mold of my position. Sometimes her movements in the night force me to the edge of the bed, whereby I stand up still half-asleep and scoot her body over to make room.
Kiki likes to sleep under the covers in the winter months. She will lay right near my head, facing me on her side and sleep soundly all night with very little movement.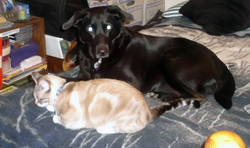 (Above): Rainee and Kiki on my bed in one of their rarely agreeable moments. Click on image to view larger size in a new window.
I also don't mind my pets on other furniture. Both Rainee and Kiki are clean and healthy, so I see no reason to deny them comfort where they find it.
People who know me understand I treat Rainee and Kiki like my kids because they are very much like human children. They have distinct and separate personalities, they use their brains with thought and action based on familiarity and memory, they feel pain, joy and fear and they are capable of giving a great deal of unconditional love – unlike their human counterparts.
Rainee is very easy-going and happy. Very little ruffles her feathers, including loud noises or fireworks. On the other hand, Kiki is the "Evil Drama Queen" with flares of vicious temper and psychotic tendencies. She also panics and freaks at loud noises. However, she is very angelic and sweet when she's sleepy.
There is no other place on the planet where I could find such loving and non-judgmental creatures.
I wouldn't part company with my kids for all the money in the world.
*RELATED POSTS:

Tags: Kiki; Photos & Other Images; Rainee