Puter Stuff
Posted Wed, 07/21/10
I was trying to create a PDF (Adobe Acrobat) version of a Publisher 2003 file the other day. It's easy to do using MS Word or Word Perfect, but converting Publisher files is another story. Microsoft Publisher has always been a tetchy program bar none, running way ahead of the unpredictable Microsoft Expression.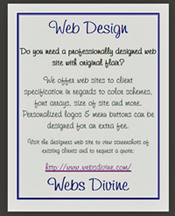 (Above): Screenshot of the PDF "services" flyer for Webs Divine. Click on image to view screenshot in a new window, or click here to view flyer in PDF format.
Most PDF converters cost money, but Primo PDF offers a free converter program that works easily. I used it on a flyer for Webs Divine services and it turned out quite well.
Microsoft also offers a free add-in to perform the function.
Tags: Web Design/Computer Misc