Mahjong on the Screen
Posted Mon, 04/17/06
I've added Mahjong to my list of favorite computer games. The other day my mother mentioned trying to play the game from a CD she received from her cousin in Canada, so I thought I would look into it.
I downloaded the trial version of Mahjong Suite, which is from the creators of SolSuite. I played around for about an hour, and then I bought the program online ($18.95). Surprisingly, the game is very addictive. I spent the better part of Sunday glued to my computer screen, unaware of the passage of time. The house grew dark as I fiddled about. When I finally got up from my chair, I was surprised to notice that night had fallen.
Click on the picture below to see a screenshot of the "standard" game in Mahjong Suite. (Image copyright Mahjong Suite).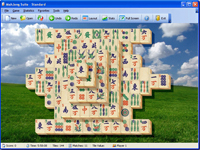 There are millions of possible game combinations, with several tile selections (from classic to traditional and the bizarre). One of the features I particularly liked when I first started was the "suggest a move" option from the Game Menu. I wasn't sure what I was doing in the beginning, so the little hints helped me learn the game faster.
I highly recommend Mahjong Suite for hours of endless pleasure.
Tags: Games; Photos & Other Images