Old Wish List
Posted Mon, 04/16/12
I've just about completed an old wish list of mine, which started almost two years ago. Being the detail-orientated geek that I am, crossing items off the list gives me great pleasure. See how easy I am to please?
At the top of the list was getting Rainee and Kiki current with their shots, medical exams and licenses. It sounds simple, but keeping them healthy via the veterinarian costs as much as taking myself to the doctor multiple times. However, they are very much worth it to me.
Their joint appointment is scheduled for tomorrow morning. I bought a new hard-plastic carrier for Kiki (now known as "pet escorts") because she shredded the net-fabric "door" of her old one. On top of shots and exams, Rainee will also be getting her nails clipped. If I can manage to take any decent pictures of the momentous event, I'll post them on my Facebook page tomorrow.
In anticipation of the stress and trauma they will experience, I bought little treats for both of them for after the doctor visit. Rainee will receive a breakfast of Cesar's Sunrise Grilled Steak & Eggs, an ultra-chewy double treat bone and a can of Alpo's T-Bone Steak for dinner. Kiki will receive a handful of her latest favorite treat (Creamy Dairy-flavored crunchies from Temptations), along with a tray of Whiskas filet mignon for breakfast and then Friskies lamb and rice for dinner.
All but one item on my wish list is now crossed-off, some old as well as new. They include:
I don't think any of the items for myself are too frivolous as they serve a purpose in my work for the most part. I certainly can't say the same for Rainee and Kiki and their various frills.
Speaking of frills, I picked up a Petco Cream Cuddle Sack for Kiki the same time I purchased her new carrier. The sack is nothing more than a plush feline version of the human sleeping bag, but Kiki hates it. She avoids it like the plague, jumping and darting over and around it rather than touch her paw on its soft fabric. She'll probably give it a chance once she thinks I don't care one way or another. She is an evil (but lovable) witch.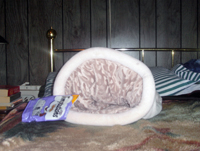 Pictured above: Kiki's new plush sleeping bag, which she hated on sight. Click on image to see larger size in a new window.
The last item on the list, yet to be crossed-off? Residency in the state of Maine.
I'll get there, hopefully sooner rather than later.

Tags: Books & Reading; Kiki; Photos & Other Images; Rainee
POSTSCRIPT 04/17/12: Rainee came through with flying colors, passing her physical and enduring three shots and a nail-clip. She didn't cry, snap, growl or whimper once. Kiki, on the other hand, hissed and growled at the doctor, making her extreme displeasure known. Rainee lost three pounds since her last office visit, while Kiki gained two. However, both of them were pronounced healthy by the doctor. Very happy!