Fun with Photos
Posted Thu, 04/16/09
I found some great online photo editors, thanks to the article 10 Great Websites to Add Effects to Your Photographs (link no longer valid).
I wasn't enthralled with all ten of the article-mentioned web sites, but I did find a few I liked: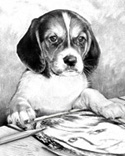 I created a new Facebook badge (pictured above; notice my face in in the pic under the dog's paws) and a water-daisy effect using Fun Photo Box; a photo-to-sketch with Dumpr, and an eye reflection with Photo Funia (pictured below).



Best of all, the photo editing is free. Make sure to save created images to your computer as the online editors typically delete them after a few hours.
Tags: Photos & Other Images