Flash Galleries
Posted Tue, 02/19/08
I recently purchased Coffee Cup Software's Photo Gallery program. I'm interested in putting together a "flash" photo gallery without having to buy the more expensive software offered by Adobe (via Macromedia).
I learned the general functions and commands of the program and proceeded to make a few "test" galleries. There are several templates included with the program, but there is also the ability to design your own, which I did when I created the People and Objects galleries. I only made five small galleries initially, the main page for which can be seen by clicking here.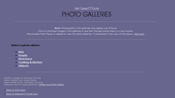 There are galleries containing pictures of Kids (pets); People (yours truly and others); Structures (houses & outdoors), Cooking (kitchen); and Objects (et al). Having the free Flash Player is a must in order to see the galleries, and I recommend a high-speed internet connection when doing so.
The only downside so far is once a gallery is named, saved and completed it is difficult to edit portions of the gallery by simply opening it inside the Photo Gallery program. I misspelled my own last name on one of the photo captions and wanted to fix it, but could not access the file through the program. There's always a way around everything, and I eventually hit on it by opening the "xml" file containing the caption text using Notepad. I corrected the error, saved it and then re-uploaded the file to the web space I use for the gallery.
I've had my few days of fun, but now it's back to writing-work.
Tags: Photos & Other Images