"Creature" Nod
Posted Sun, 02/05/12
Until recently, I had no idea that actor Michael Sarrazin passed away last year. I'm not one to devour celebrity gossip rags, but rather came across news of his death quite by accident.
Sarrazin was probably best-known for his portrayal of the "monster" in Frankenstein: The True Story (1973). Who knew a telly rendition of Mary Shelley's classic character could be so devastatingly handsome? The film also starred James Mason, David McCallum (once Illya Kuryakin and now "Ducky" on NCIS) and a very young Jane Seymour among others.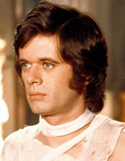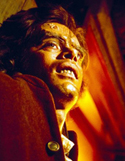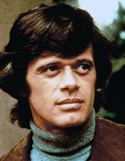 From left to right: Michael Sarrazin as the newly-born "creature" in Frankenstein: The True Story; Sarrazin as the "creature" as he deteriorates, and a publicity shot of Michael Sarrazin in normal pose.
Michael Sarrazin went on to do many more films, but his portrayal of the monster remains my favorite. I bought a copy of Frankenstein: The True Story on DVD several years ago, and find myself re-watching it now and then.
Wikipedia describes the film as follows:
Frankenstein: The True Story is a 1973 American made-for-television horror film loosely based on the book Frankenstein by Mary Shelley. It was directed by Jack Smight, and the screenplay was co-written by novelist Christopher Isherwood.

The film starred Leonard Whiting as Victor Frankenstein, Jane Seymour as Prima, David McCallum as Henry Clerval, James Mason as Dr. Polidori and Michael Sarrazin as the Creature. James Mason's wife, Clarissa Kaye-Mason also appeared in the film.

The character of Dr. Polidori, who did not appear in the original novel, was based on the real-life John Polidori, an acquaintance of author Mary Shelley who was part of the competition that produced her novel. Polidori's own contribution was the first modern vampire story The Vampyre (1819).

A notable feature of the production is that, instead of being ugly from the start, the Creature is portrayed as physically beautiful but increasingly hideous as the film progresses. The make-up was by Hammer horror veteran artist Roy Ashton.
According to a report from CBS News in April 2011:
Canadian actor Michael Sarrazin, known for his role opposite Jane Fonda in They Shoot Horses, Don't They?, passed away in Montreal at age 70. He died after a brief illness, with daughters Catherine and Michele at his side, said a family spokesman.

Quebec City-born Sarrazin was a "brilliant actor who rocketed to fame in his early 20s," said his agent Michael Oscars.

He played in The Flim-Flam Man with George C. Scott, Sometimes a Great Notion with Paul Newman, and took on an extraordinary turn in the 1973 television production of Frankenstein: The True Story, as a character who fights for the monster.

More recently Sarrazin appeared in Canadian productions including 1985's Joshua Then and Now, based on the novel by Mordecai Richler, and La Florida, in which he played the lounge singer Romeo Laflamme. The film about a Quebec family who buys a motel in Florida to escape the cold winters won the Golden Reel Award for 1993.

Michael was joking with paramedics at the hospital right to the end, said his younger brother Pierre. "Michael was an incredibly funny person and his best performances were for his family and his friends. He had an very inventive original mind and a very gentle soul."
While not much was heard from Sarrazin in recent years, I felt his passing deserved a nod. He was, after all, the reason I was inspired to read the original version of Mary Shelley's Frankenstein at the age of twelve.
Tags: Photos & Other Images