Snowy Weather
Posted Sat, 01/20/07
We were walloped with snow Friday night and Saturday morning. I took photos on both days (see below; click on images to see larger size in a new window).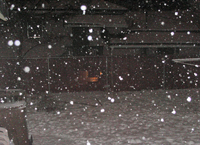 My main complaint about the Inland Northwest is the lack of proper road clearings. I was spoiled in Utah, as the crews there were out at the first sign of snowfall whether it was noon or two o'clock in the morning. Not so in Spokane County. Wilbert had to drive into Idaho late this afternoon, and when he called me later he said the major highway was clear but the roads getting out of Spokane were horrendous and took the most time to navigate.
However, one of the advantages of living in Washington remains the lottery, which by its existence takes away the apparent need for State Taxation.
Tags: Photos & Other Images