Back on Track
Posted Mon, 01/02/12
Over the weekend, I updated various client web sites as well as my own. Changing "copyright" dates is just another little detail of web design and maintenance. I'm inherently detail-orientated, which seems to be second nature without much thought as opposed to obsessive tracking. Because someone is bound to notice and make comments in my experience, details both big and small are important - as long as they don't consume a lot of time.
Although I don't profess to buy-into horoscope readings, common Virgo characteristics are often right on the money with me. Being analytic and organized are perhaps the most prominent features.
On the fun side, I updated Kiki's little web site. Her pages display flash photo galleries for each year of her life, beginning in 2006. I just added the gallery for 2011: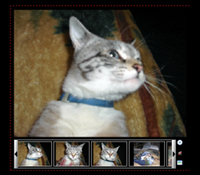 Other updates (both client and personal) include Appetizing Muse, Class Notes, CV (online), Food Fare, Food Fare Cookbooks, Foofer's Memorial, IENA, Photo Galleries (et al), Rainee's Parade and WANA. I'm holding off on the updates for my own web site and Deidre Dalton's site because the release of The Twain Shall Meet is imminent.
Now that my client web projects are caught-up, my main focus will return to writing. As much as I enjoy web design, writing is my first love. As it is, I'm very comfortable switching between both modes.
Back to Glinhaven and it's misty environs...

Tags: Glinhaven; Kiki; Photos & Other Images; Web Design/Computer Misc