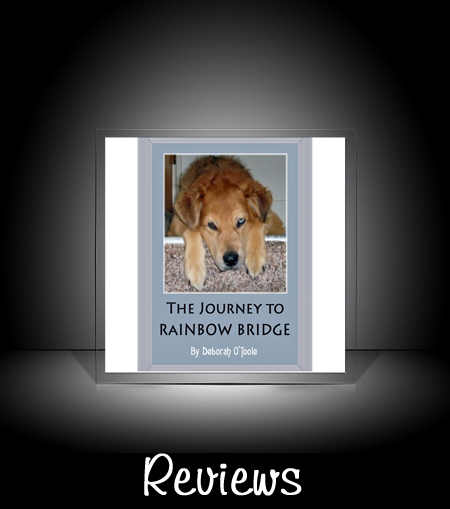 ---
"A very short book, but displays all the love that was shared by a human and her canine companion. I can relate to her sorrow."
- B. Jarboe
"Great book.. Great stories of pet owners.. Great to know that we will see again our pets really eased my pain. I saw my cat in the sky down bright stairs; above was a hole and a rainbow color. It was a sign I asked God and my cat to show me. My pain was totally gone after that."
- Gloria Santos
"I just read your wonderful book The Journey to Rainbow Bridge about the loss of your baby. I lost my Rowd last month, he was also ten, and started having seizures as well. I feel exactly as you described. I miss him so much. No one understands my pain. I would have done anything for him. I also read up and tried everything that promised to help him. I came home and found him in a seizure that took his life two days later. I miss him so very much. Sometimes I just want to be with him. Thank you for your story. I hope that time has helped your broken heart. And there will be hope for me as well."
- Bobbie Day
Deborah O'Toole's response to Bobbie Day (12/21/13):
Thank you for the wonderful comments about my book The Journey to Rainbow Bridge. I'm so sorry about your loss. I completely understand your heartbreak. I lost Foofer six years ago, but I still miss him and think about him nearly every day. I kept all of his stuff (first collar, food and water bowls, toys, etc.) and luckily I have a lot of pictures of him as well as a few videos. However, as time marches on the pain does lessen. I know that doesn't seem possible at the moment because losing Rowd is still so fresh for you, but as the weeks and months pass you will be able to think about him without bursting into tears (as I did when Foofer died). After awhile, the memories of Rowd will hopefully bring a smile to your face instead as you remember the good times. Losing a beloved pet is just as painful and devastating as losing a family member. In truth, pets are more like family than actual family members sometimes! Thank you again for your comments. Take care and Happy Holidays, Deborah O'Toole.
---
< Back to "The Journey to Rainbow Bridge" book page