N E W S & U P D A T E S

Press Release, Sunday, 1 December 2013:
"Megan's Legacy" released by Club Lighthouse Publishing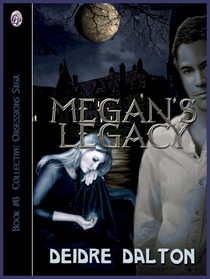 Megan's Legacy was released by Club Lighthouse Publishing today. The book was written by Deborah O'Toole under the pseudonym Deidre Dalton.
Megan Larkin falls for dashing Boston attorney Luke Castaneda, a newcomer to Larkin City. Locals try to warn Luke about Megan's family and their history of madness and tragedy, but he is determined to make her his wife. Other elements are at work to ensure the union never takes place, bringing another veil of evil over the Larkin's and their self-named city in the guise of a serial killer. Megan is forced to discover the truth and to set herself free from a legacy of family secrets and obsessions.
Megan's Legacy is currently available from Amazon (Kindle), Barnes & Noble (Nook) and in multiple formats on the Club Lighthouse Publishing web site.
Megan's Legacy is the 8th and final book in the Collective Obsessions Saga, which chronicles the extraordinary loves and obsessions between two families sweeping a span of more than one hundred years, all set against the backdrop of a Gothic seaside mansion in Maine.
Click here for more information >
Click here to read excerpts from "Megan's Legacy" >

BACK TO NEWS & UPDATES