N E W S & U P D A T E S

Press Release, Friday, 16 August 2013:
"The Twilight" released by Club Lighthouse Publishing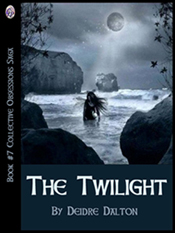 The Twilight was released by Club Lighthouse Publishing today. The book was written by Deborah O'Toole under the pseudonym Deidre Dalton.
Shannon Larkin and Scott Page are happy in their long marriage, but a tragic loss forces her to delve into the past in order to face ugly truths about her husband. Devastated, she retreats into her own solitary world. A stranger brings her out of self-imposed exile and shows her the beauty of unconditional love exists after all.
The Twilight is currently available from Amazon (Kindle), Barnes & Noble (Nook) and Club Lighthouse Publishing (multiple formats).
The Twilight is Book #7 in the Collective Obsessions Saga, which chronicles the extraordinary loves and obsessions between two families sweeping a span of more than one hundred years, all set against the backdrop of a Gothic seaside mansion in Maine.
Click here for more information >
Click here to read excerpts from "The Twilight" >

BACK TO NEWS & UPDATES