N E W S & U P D A T E S

Press Release, Tuesday, 1 February 2011:
"Passion Forsaken" released by Club Lighthouse Publishing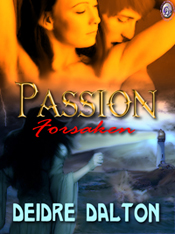 Passion Forsaken was released by Club Lighthouse Publishing today. The book was written by Deborah O'Toole under the pseudonym Deidre Dalton.
Forbidden love and dark secrets haunt two Irish families hacking out a new life in 19th-century America. When Molly Larkin's father discovers her affair with lighthouse keeper Colm Sullivan, his reaction pitches her into madness. Yet the legacy forges a bond of blood that will endure for generations...
The book is available from the Club Lighthouse web site, Amazon (Kindle) and Barnes & Noble (Nook).
Passion Forsaken is Book #1 in the Collective Obsessions Saga, an eight-part series which chronicles the extraordinary loves and obsessions between two families sweeping a span of more than one hundred years, all set against the backdrop of a Gothic seaside mansion in Maine.
Please Note: Passion Forsaken was re-released as The Advent in February 2014. More >
Click here for more information >
Click here to read excerpts from "Passion Forsaken" >

BACK TO NEWS & UPDATES