N E W S & U P D A T E S

Press Release, Monday, 17 October 2011:
"Collective Obsessions" bonus guide released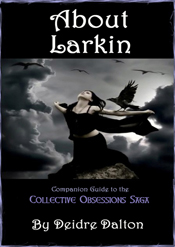 About Larkin was released today.
A bonus guide to the Collective Obsessions Saga by Deidre Dalton (aka Deborah O'Toole), the book offers insights to the backdrop in the series, such as particulars and images of Larkin City and the Larkin estate. Because the story spans more than one hundred years, facts and entertaining personal trivia were compiled by the author during the writing process.
For a limited time, About Larkin is freely available as a PDF (Adobe Acrobat) download.
Click here for more "About Larkin" >
Click here to read Deborah's blog post "Collective Guide" >

BACK TO NEWS & UPDATES